Village Comics
214 Sullivan Street
NYC, NY
(212) 777-2770


---
Village Comics is more than just a comic store. Village Comics is a genre fan's dream, loaded with books, toys, model kits, and oddities.
There are few stores in NYC that have such a wide selection of fantasy, horror, and sci-fi books, and the fact that Village recognizes there are other authors besides Stephen King, Anne Rice and Dean Koontz is refreshing. They manage to include a wide array of authors in their ever-expanding selection of paperbacks and hardcovers.
Village is also one of the few stores that carries a wide variety of model kits (both built and unbuilt). I suppose the days of the neighborhood hobby shop are long gone, but Village carries the tradition on with model kits from all genres. Horror favorites such as Dracula, Frankenstein, The Creature, Hellraiser, as well as Werewolves and Vampiresses, are often in stock, as well as Nightmare Before Christmas kits, Comic standbys, and actors in infamous roles, such as Travolta from Pulp Fiction or DeNiro in Taxi Driver.
As far as toys go, Village comics tends to get the new toys from most of the popular lines in a timely fashion. Some of the hotter pieces get marked up quickly, but often the more common ones can be found at bargain prices. McFarlane toys, Star Wars and Chaos! Toys are staples.
Oh, and comics. Don't forget the comics. New, old and in between, Marvel, DC, Image, indies and xxx are always in stock.
Commentary by Joan Rachel Dennis, Tuesday, December 30, 1997.
WWW.NYCGOTH.COM Gallery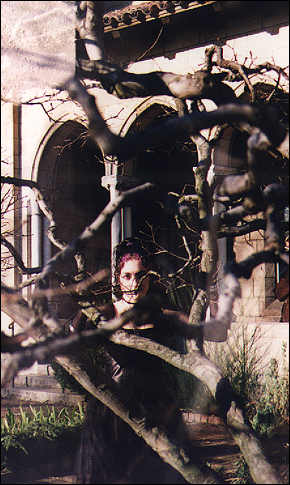 Photo: Risa / Model: Jill Barone