Venus Records
13 St Marks Place
NYC, NY
(212) 598-4459


---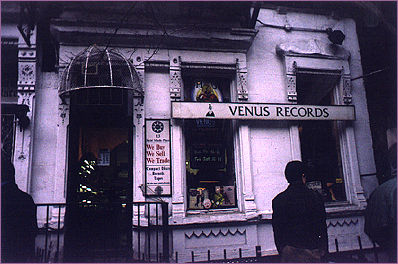 This two floor record store reminds me of the sort of store the cool kids in 80's movies hung out in. The basement is loaded with vinyl that tends to reflect what the people in those movies were listening to as well.
Venus records is a somewhat dark, rather dusty, chaotic little shop that carries all sorts of goodies. The vinyl (kept in the basement) is always rotating in stock, making Venus one of the best places to acquire 80's and new wave records for under $5 each. They haven't forgotten goth and industrial, either: both have their own little vinyl sections, which occasionally have incredible deals. Alien Sex Fiend, Christian Death, KMFDM, Skinny Puppy and This Mortal Coil are often well represented, though the stock does rotate and can be hit and miss.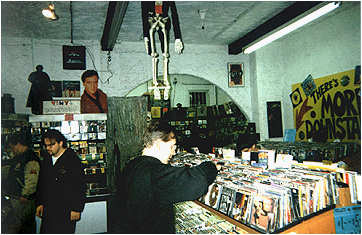 Upstairs, the CD selection contains less goth and industrial, tending to focus on having the full discography of a few bands, rather than a wide variety of bands. I've yet to see a more complete selection of Christian Death CDs anywhere, though. The stock seems to rarely rotate on a lot of the CDs, so that means some of the "rarer" discs stay in stock longer than in most other places.
The staff in this store seems to be classic rock elitist that would prefer to deal only in dinosaur rock. Don't let that deter you, though; Venus has too many vinyl gems to let silliness like that bother you.
Commentary by Joan Rachel Dennis, Tuesday, January 16, 1998.