Tim McKoy Gallery
318 Bleecker Street
NYC, NY
(212) 242-3456


---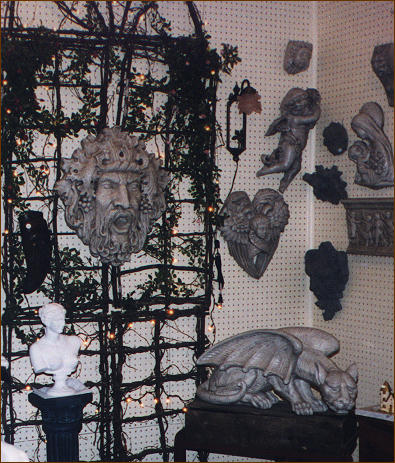 Tim McKoy Gallery is a beautiful little shop filled with gargoyles, angels, wall hangings, and dolls. The store seems obsessed with quality and style, rather than sheer quantity. Of course, this makes a difference in the long run, as they have some exquisite pieces that I've yet to see anywhere else.
The walls of this shop are hung with angels, gargoyles, mirrors and candelabras, varying in colour from alabaster white to slate grey. The pieces appear to be carefully sculpted and detailed.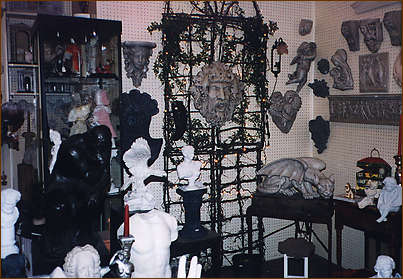 The sculptures that are placed around the store are delightful. While some of them are more common reproductions, more often than not, they are uncommon pieces. Gargoyles sit on shelves overseeing and biting their own tails. A Notre Dame gargoyle even types into a laptop computer, waiting to become the perfect gift for a devoted net.goth. Angels perch on pedestals, watching over the gargoyles and dragons that sit below them. A cabinet of Victorian porcelain dolls occupies one corner, and some of the pedastals are crafted as ornately as the figures resting upon them.
This store, in all it's breathtaking beauty is a magical place filled with delightful trinkets that no lover of sculpture would want to pass by.
Commentary by Joan Rachel Dennis, Monday, January 12, 1998.
WWW.NYCGOTH.COM Gallery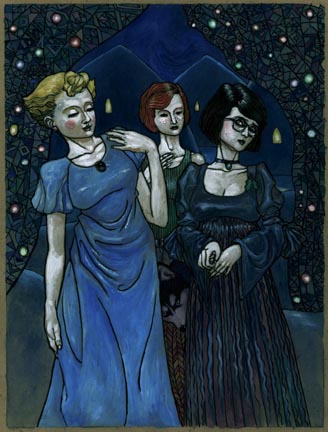 Illustration by Kurt Komoda