Enzs
48 West 8th Street
NYC, NY
(212) 475-0997
12:00PM -8:00PM


---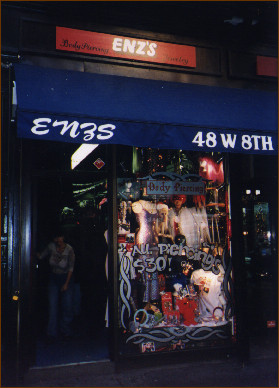 Enz is one of those classic Village boutiques. The walls are hung with all sorts of clothing that you'd see in fetish magazines, and multi coloured wigs are displayed on the whitest foam heads. Piercing jewelry gleams in the display case, and the owner walks around the store, smoothing a dress on the mannequin or straightening an out of place item in the display case.
Enz shines as a gothic boutique, featuring all sorts of clothing- long tulle skirts and short tu-tu skirts are usually available in black, red and purple. Unisex shirts and spiderweb lace are available between the large amount of pvc vinyl and rubber items, such as bustiers, skirts, and gloves. The wig selection is a rainbow of colours and styles. In other words, if you are looking for a green bob cut wig, Enzs would be a good place to check.
The store also sports a piercing parlour in the back. The advertised price is $30, including jewelry. While this is one of the better prices in NYC for a piercing, remember a cardinal rule of life: sometimes you get what you pay for.
As a boutique shop, though, Enzs has a good variety of items that many not be readily available other places, making them a good stop for the dressing needs of those of us who prefer to be clad in black, pvc and lace.
Commentary by Joan Rachel Dennis, Tuesday, December 30, 1997.
WWW.NYCGOTH.COM Gallery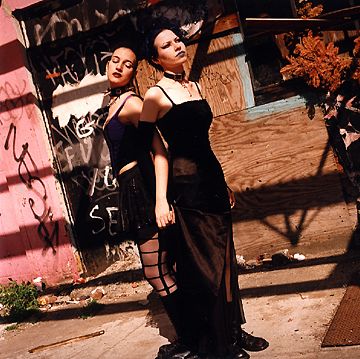 Photo: Rachel / Models: Carol, Varrick