120 MacDougal Street
NYC, NY 10012
(212) 475-1613

---
| | |
| --- | --- |
| Down in the area immediately south of Washington Square Park, nestled between chess shops, Indian-Mexican eateries, pseudo-Italian cafes, and theatres so far off Broadway they might as well be in Queens, are jewelry shops just large enough to squeeze in about five skinny people. One in particular shop stands out because of it's selection of unique items—C'est Magnifique. | |
Though all of the items seem covered with a soft layer of grayish dust, every item seems unique, and a sizable proportion are both beautiful and grotesque. And sometimes eerie and puzzling.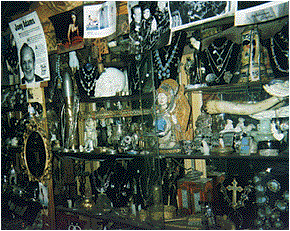 Some of the pricier items go beyond jewelry, and would best be described as curios. Skulls (real and silver), tusks, ornate boxes, and more are behind the glass cabinet on the right side, and a veritable army of earrings and necklaces line up in the cabinets to the left.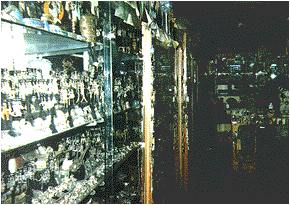 The staff is friendly and take the time to get to know customers. Celebrity endorsements practically wallpaper the place.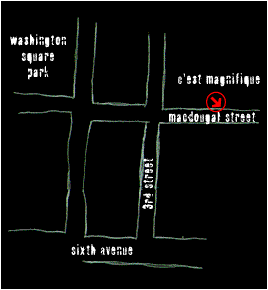 C'est Magnifique is very close to the West 4th Street subway station, and is a stone's throw away from other interesting shops, like Bleecker Bob's, Village Comics, Generation Records, and more.
Commentary by Clifford H. Low, Thursday, October 30, 1997.
WWW.NYCGOTH.COM Gallery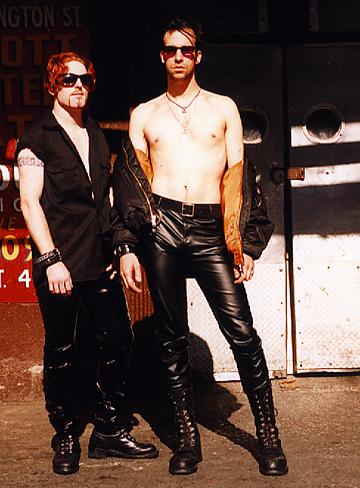 Photo: Rachel / Models: Kerry, John