Back From Guatemala
306 East 6th Street
NYC, NY
(212) 260-7010
Mon 1:00-9:30PM / Tues-Thurs 12-10:30PM
Fri-Sat 12-11:30PM / Sun 2:00PM-10:30PM


---
Back From Guatemala is a store providing trinkets and clothing from the Far East and South America. The store is small, and located on the Western edge of Little India; though interestingly enough, the artifacts put lesser priority on Indian artifacts.
What you will discover from the first moment you enter are rows upon rows of grotesque masks, just above arms reach, in two lines stretching from the front door to the very back. Most of these masks are Balinese, though some are Mexican and a few are Chinese— but all are exquisitely evil looking, most being skeletal or demonic.
As you enter, to the right is a glass cabinet filled with Mexican Day of the Dead figurines and Egyptian statuettes of brass, soapstone, and turquoise. To the left is a much larger cabinet containing the widest diversity of mythological figures and gods that can be found; dozens of Shinto, Vedic, Balinese, and Aztec divinities in a wide variety of materials and sizes— some quite large, and many carved from semiprecious stones. Behind you is a smaller glass case filled with several kinds of incense.
A glass case next to the cash register has a diversity of silver and gold artifacts; mostly pendants and earrings, from countless regions and cryptic designs. Saris, sashes, babooshkas, sweaters, ponchos, and a diversity of exotic textiles hang across from it, while distinctly non-Christian angelic sculptures and shaggy marionettes depend from strings. Towards the back are bendable wooden snakes in baskets, the largest statues and the dressing room.
Back From Guatemala is one of my favorite stores; it is my staple for grim birthday gifts. You really never know for certain what you will find there, but for certain you'll see several amazing items just barely within your price range. I find the staff tends to be largely courteous and helpful, and a number of them can tell you a bit about the histories and origins of their rare wonders.
Commentary by Clifford Hartleigh Low, Monday, July 6, 1998.
WWW.NYCGOTH.COM Gallery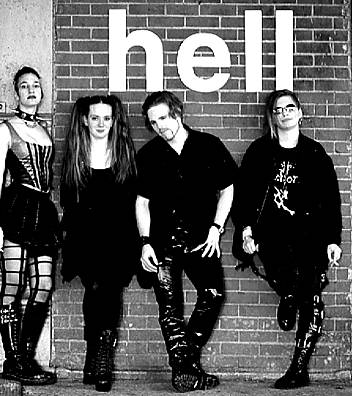 Photo: Rachel / Models: Carol, Anna, Kerry, Sue