---
Windex
---
The Windex is a translucent blue mixed drink resembling the window polish it is named after, both in color and consistency. Sometimes also known slightly inaccurately as the Blue Kamikaze, this drink became popular at the legendary Batcave event at Downtime.
Windexes, under whichever name, are very popular among fans of Industrial music; though this is more because of its value as an inexpensive intoxicant rather than any resemblences the drink might have.
Windex


1 1/2 oz. Vodka (Absolut or Stoli)
1 1/2 oz. Triple Sec
1 1/2 oz. Blue Curacao
Dash Lime Juice or additional 1 oz. Vodka
Kamikaze


1 oz. Vodka
1 oz. Triple Sec
1 oz. Lime Juice
Commentary by Clifford Hartleigh Low, Saturday, October 24, 1998.
WWW.NYCGOTH.COM Gallery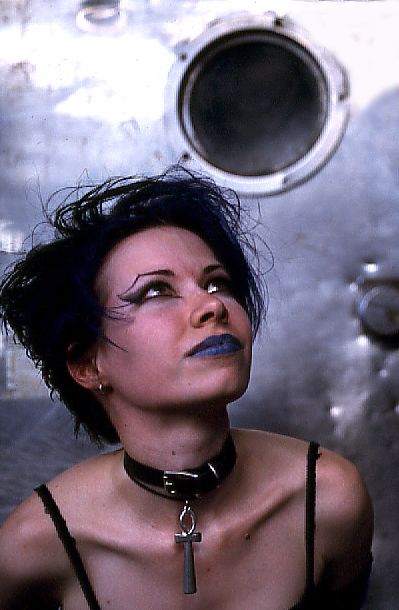 Photo: Rachel / Model: Varrick