Veselka
144 2nd Avenue
NYC, NY
(212) 228-9682


---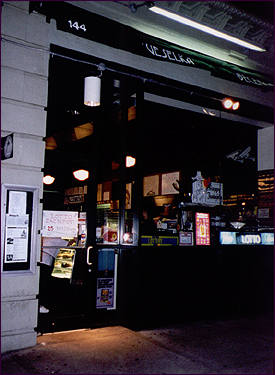 An excellent substitute for Kiev is Veselka, which provides similar Eastern European cuisine all night, but in a superior environment. It's impossible not to compare the two; they're only a few blocks from each other, serve similar cuisine, are open till the crack of dawn (and sometimes beyond), yet are very different stylistically. Whereas Kiev is essentially a cramped 1940s cafeteria, Veselka is an artistically recomposed donut shop. Up at the counter you can see where the baked goods were displayed in more modest times, but the whole back of the place is decorated with clever artwork and a stretch of large windows displaying the people as they walk by, though late at night it isn't usually as impressive.
Veselka's menu is smaller than Kiev, but it makes up for it with inclusions of customer artwork, humor, and the quality of the victuals provided. In the end, it's kielbasa, perogies, cabbage soup, goulash, blintzes and such all over again, but the quality is somewhat better (the quantity is very slightly less I should note) and the "standard" fare like hamburgers and toasted bagels are more passable than Kiev.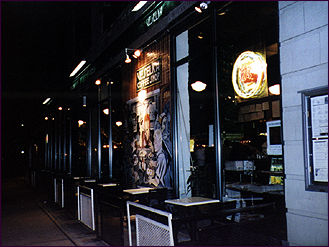 The seating is also slightly better, and the noise level is more moderate—partially because of the noisy kitchen more seperated from the customer area than Kiev. Though it can vary, Veselka's waiters often converse with the customers, are more friendly, and usually seem less frantic than those at Kiev.
Commentary by Clifford H. Low, Monday, January 26, 1998.
WWW.NYCGOTH.COM Gallery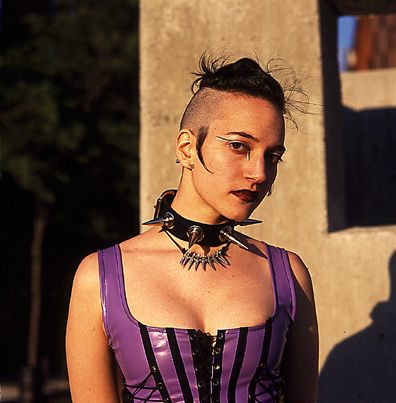 Photo: Rachel / Model: Carol Tessitore