---
Red Death
---
This mixed drink gains its name and notoriety from a bloody hue and a throttling melange of bittersweet flavors. Like most drinks favored by Goths, if mixed properly, it can be an anvil to be dropped from twenty stories straight onto your skull. The sweet taste conceals the potency of the beverage, and many young people find themselves bafflingly unable to rise from the floor after one too many.
Red Deaths and Red Devils are very popular drinks at events held at The Bank and Pyramid. Jenn Bailey at Exedor is generally regarded as mixing the best Red Deaths (and variants) in New York City.
1/2 oz Vodka (Absolut preferred)
1/2 oz Triple Sec
1/2 oz Amaretto
1/2 oz Southern Comfort
1/2 oz Sloe Gin
Fill with Orange Juice
A splash of Sambuca, or chips of frozen Sambuca optional
Slice of Lime optional
Served on the rocks in a Collins Glass
Commentary by Clifford Hartleigh Low, Friday, October 23, 1998.
WWW.NYCGOTH.COM Gallery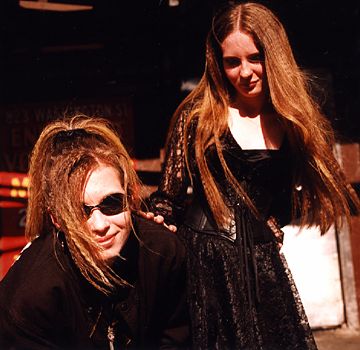 Photo: Rachel / Models: Sue Borg, Anna Conway