Pierpont Morgan Library
29 E 36th Street (on Madison Ave.)
NYC, NY
212-685-0008

Hours: Tuesday - Friday 10.30 am - 5 pm / Saturday 10.30 am - 6 pm / Sunday noon-6 pm
Fee: suggested donation of $5 for adults, $3 for students and seniors.


---
To get there: take the 6 train to 33rd, walk west to Madison and then north to 36th.
The Morgan is an experience. As per its name, the Morgan used to be the home of J. Pierpont Morgan, millionaire financier of the late 19th and early 20th centuries. The Morgan specializes in manuscripts and paper arts and objects ranging from 9th century Coptic bookbinding to drawings by Leonardo da Vinci. That is not to say that all their things are that old; I've just seen these things in the storage rooms (and was nearly eviscerated by a curator for leaning on the da Vinci when in the conservation lab- hell, I didn't know what it was). The Morgan usually has some disparate but interesting exhibitions going on. Call ahead to find out what old treat is on view.
Commentary by Heather Babb, Monday, January 25, 1998.
WWW.NYCGOTH.COM Gallery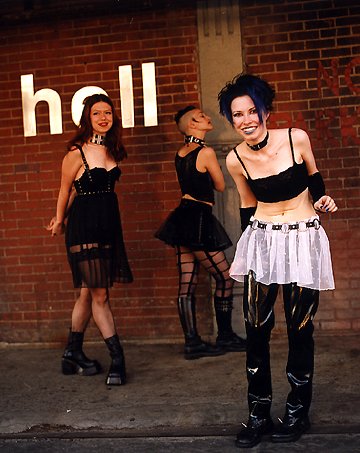 Photo: Rachel / Models: Cassie, Carol, Varrick