New York Transit Museum
Corner of Boerum Place and Schermerhorn Street
Brooklyn, NY
718-243-3060

Hours: Tuesday - Friday 10 am - 4 pm
Saturday and Sunday 12 - 5 pm
Fee: $3 adults, $1.50 for under 17 and seniors


---
To get there: A, C or G trains to Hoyt-Schermerhorn Sts.; F to Jay St.; M, N or R to Court St., 2, 3, 4, or 5 to Borough Hall.
I admit I haven't made it here yet. But everything I have heard has been fabulous. If you have ever wondered how the city got its subway system, who built it and why, go here. The museum is housed in a former subway station, an has enough space to have old subway cars and other underground memorabilia.
Call ahead to find out what's showing, but also to get more information on the coolest aspect of this museum: the underground tour. Yes, you can go under the streets on the Subway Reality tour. These are held on Wednesdays, but as stated, call to get all the info on it. You don't want to haul to Brooklyn for this neat experience and then get there and find out it isn't happening. That would be depressing. Wait, depressing is a Goth trait. Never mind, this could be a good thing.
Commentary by Heather Babb, Monday, January 25, 1998.
WWW.NYCGOTH.COM Gallery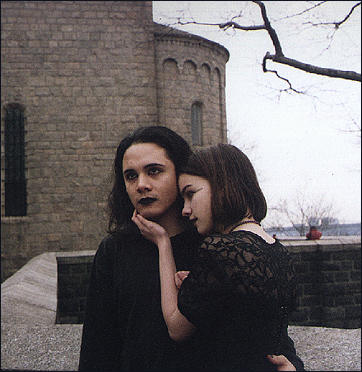 Photo: Risa / Models: Will Evans and Leonora Unser-Schutz