The Metropolitan Museum of Art
1000 5th Avenue (at 82nd street)
NYC, NY
212-535-7710

Hours: Tuesday - Thursday, Sunday 9.30 am - 5.15 pm
Friday and Saturday 9.30 am to 8.45 pm

Fee: suggested donation of $8 for adults, $4 for students and seniors


---
To get there: take the 4, 5, or 6 trains to 86th street; exit station and walk west towards the park; hang a left and you can't miss it.
The Met is the oldest public museum in the city. Open since the late 19th century, it has gone through many an incarnation before it settled into what is today, probably the best museum in the United States. Even so, the Met is NYC's dowager auntie of museums: slightly run-down at the heels, but still looking fine in its conception of the modern day (multimedia mixed with old standbys). It has always has and always will provide a lovely afternoon. No matter what you are looking for the Met has it. It is suggested that you spend at least three hours in this museum as it is rather large (and has more than enough to keep anyone busy for that amount of time). Also bring money and lots of it: the Met's gift shop is an experience. Picture three levels of stuff ranging from the best of art books, to post cards, slides, kids toys and jewelry. You can always find something for someone in this place.
Collection: Everything. Literally. From a Greek vases to 20th century painting, the Met has the rundown on whatever could strike one's fancy. One of the best aspects of the museum is its Egyptian art collection. While not as comprehensive and complete as the Brooklyn Museum, the Met's collection is nothing to complain about. You must check out the Temple of Dendur, a rescued temple from 15 b.c. Another interesting, but lesser known piece from the collection are a pair of gold sandals; they are solid gold, look very uncomfortable, but at the same time are gorgeous. If European painting is your thing, go upstairs to the painting galleries where you can see everything from old masters and Byzantine icons to the progenitors of modern art in the 19th century galleries. The Medieval area is fine, especially if you can't make it to the Cloisters. It has sculpture, furniture, enamels, liturgical items, and a wonderful reliquary head (which is kind of odd at first, but sort of neat once the strangeness wears off). The Lehman wing in the back has some fun little galleries which no one seems to really go to. These galleries hold Netherlandish painting (and one of the wickedest Jesus and Mary paintings I have ever seen) to a few Rembrandts. The Asian areas are amazing, especially since the Chinese galleries have been reopened. The American wind has a lovely collection of period rooms from America's past (dec art heaven). If you have ever wondered what your salon might have looked like if you were rich and alive in 18th century France, the Met also has numerous period rooms rescued from various places in Europe. And I can't forget the Costume Institute, one of the more interesting parts of the museum. The CI always has some sort of interesting exhibition on dress up. Recent shows have included 'Wordrobe' (how words have been used in clothing) to 'Bare witness' (how the body is sexualized by revealing various parts). Call ahead to find out what other exhibits are up.
All in all, you MUST go see this place. And if you can, pay the entrance fee. It is worth it. Pick up a map in the great hall and map out where you want to go and what you want to see: the place is really big and it is easy to get lost (you were warned). Avoid the cafeteria: overpriced and full of mundie tour groups from Kansas.
Commentary by Heather Babb, Monday, January 25, 1998.
WWW.NYCGOTH.COM Gallery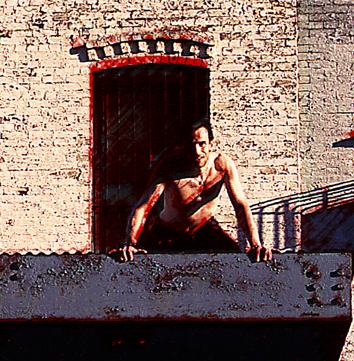 Photo: Rachel / Model: John Hopkins