Solomon R. Guggenheim Museum
1071 5th Ave. (at 88th street)
NYC, NY
212-423-3500

Hours: Sunday - Wednesday 10 am - 6 pm
Friday - Saturday 10 am - 8 pm

Fee: $6 for adults, $4 students and seniors,
under 12 free; Friday nights
6-8 pm pay what you wish


---
To get there: 4, 5, or 6 to 86th street; leave station, walk west towards the park, and then north two blocks
The Guggenheim's (the Goog) collection of modern art is almost as famous as the architectural wonder that houses it. Frank Lloyd Wright's last completed commission before his death in 1959 is a stunning example of modern architecture gone utterly right. Picture a luscious white curved exterior housing a filling of an exemplary collection of modern art from all over the world. It kicks.
If you aren't into modern art, at least come to see the building. It is the convergence of Wright's theoretical architecture made into being. It is also a monument to his tenacity and stubbornness. The interior walls of the rotunda are angled. When someone objected to the angle in the planning stages, Wright simply replied that they angled walls were staying as they were the same angle as an easel and paintings are best seen on an easel. Um, right. if you adore modern architecture, this place will give you a chill up you spine that won't be easily forgotten.
Collection: The best modern art that money can buy. The collection was begun early in this century, so it is quite comprehensive. You will find all the notable artists of the 20th century and then some. The Goog also has changing exhibitions in addition to the permanent collection. Call ahead to find out what they have on display.
Commentary by Heather Babb, Monday, January 25, 1998.
WWW.NYCGOTH.COM Gallery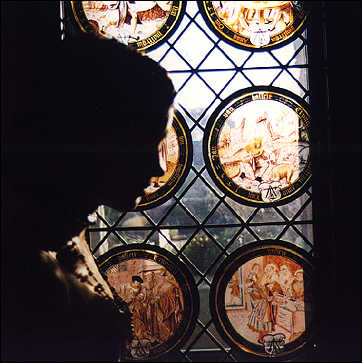 Photo: Risa / Model: Leonora Unser-Schutz