Greenwood Cemetary
5th Avenue and 25th Street
Brooklyn, NY
[Accessible via the F Train
to Fort Hamilton Parkway]


---
Commissioned in 1838, Green-Wood was constructed not merely as a vast graveyard, but as a memorial park in the true victorian sense of the word: it was a quiet, pastoral enclave where visitors could sit over tea and finger sandwiches to contemplate nature and mortality. Replete with twisting paths, reflecting pools and stunning statuary, Green-Wood defies description.
By the mid-1800's, it had gained incredible celebrity for its organic and architectural beauty, inspiring the city to create a contest for a similar park in Manhattan. Two prominent architects and urban planners, Calvert Vaux and Frederick Law Olmstead, used Green-Wood as the basis for their entry, a park called "Greenslaw," which would later evolve into Central Park. Among the notables resting here are New York mobsters Joey Gallo and Albert Anastasia; politico William Marcy "Boss" Tweed; composer Leonard Bernstein; and birth control advocate Margaret Sanger.
A necropolis of proportions perhaps only a New Yorker can appreciate, Green-Wood serves as a repository for over half a million corpses. Its tombs, monuments and mausoleums display a wide range of aesthetic tastes from Gothic Revival and Italian Renaissance to Belle-Epoque and Art Deco. If you've ever longed (and admit it— you know you have!) to have your picture snapped in a grim repose with mournful stone seraphs and pleurants in the background, prepare yourself for the ultimate photo safari of death. There is little point in trying to give directions to specific graves or monuments. You will undoubtedly become lost, and this is half the fun of the trip! Simply walk through the massive gothic gateway at 5th Avenue and 25th Street, and go where your fancy leads you.
A Few Caveats: Officially, Green-Wood does not allow any photography on the grounds, so please store your cameras discreetly when entering and exiting, lest they are confiscated by the often surly grounds keepers. The park closes well before dusk— often as early as 4:30 pm, so be sure to leave yourself plenty of time for exploring. I also advise bringing bug repellant for summer visits, as there are ten times as many mosquitos as corpses, and a jacket during the rest of the year. For reasons either mundane or supernatural, there often seems to be a chill breeze around Brooklyn's dead.
Commentary by Kit Messick, Friday, July 3, 1998.
WWW.NYCGOTH.COM Gallery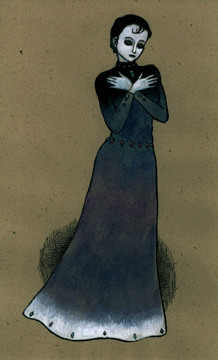 Illustration by Kurt Komoda