Cooper-Hewitt National Design Museum
2 E 91st (corner of 5th Ave)
NYC, NY
212-849-8300
Hours: Tuesday 10 am - 9 pm / Wednesday - Saturday
10 am - 5 pm / Sunday 12 - 5 pm
Fee: $3 adults, $1.50 students and seniors, free for children under 12


---
To get there: take the '6' train to 86th street; take the left stairway, go straight, and take the second set of stairs. Walk north five blocks, and then take left on 91st and walk towards the park.
Cooper-Hewitt is the place to go if you have a craving for design of any kind. It focused mostly on industrial design but does have special exhibits on everything from ergonomic chairs and wallpaper to jewelry and office supplies. Sounds rather odd doesn't it, but this place is damn spiffy if you dig beauty in everyday objects. The building has history too: it was the home of Andrew Carnegie, one of the great robber-barons of the late 19th century. Has a kick-ass gift shop with lots of odd, designed things. Decent size book collection.
Collection: Depends on what's on show. Call ahead to find out, but having been there before, they have the ability to make a typewrite look appealing.
Commentary by Heather Babb, Monday, January 25, 1998.
WWW.NYCGOTH.COM Gallery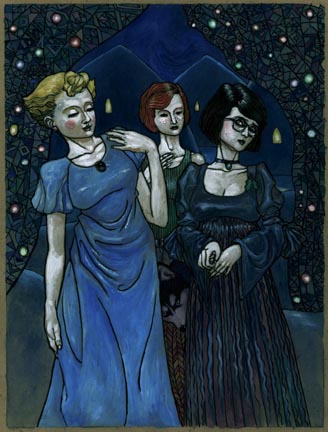 Illustration by Kurt Komoda