The Cloisters
Fort Tryon Park
NYC, NY
212-923-3700
Hours: Tuesday - Sunday 9.30 am - 4.45 pm


---
To get there: take the 'A' train to 190th street, take the exit where you have to get in the elevator. Once you are out of the station and on the street, turn right; there are two roads: take the road to the right; follow this for about 1/4 mile north to the museum
Fee: suggested donation of $8 for adults, $4 for students and seniors (pay what you wish, but this place is worth the money and then some)
The Cloisters is one of the rare marvels of New York City. Perched on a hill at the north end of Fort Tryon Park, it is a testament to a man with a dream, a passion for collecting and buying objets, and the ability to expend big bucks without ever once saying no (as with many things in this city, a Rockefeller financed the whole kit and kaboodle). The Cloisters, an outpost of the Metropolitan Museum of Art, is the first place any self-respecting Goth art-lover should visit.
The museum itself is a conglomeration of about five different cloisters rescued and/or spirited from various western European countries. They are connected by a series of chambers and side rooms which were so well incorporated into the whole scheme that one cannot really tell what is old and what is (relatively) new.
Gift shop is great if you are looking for some medieval-inspired goods. Lots of books and other theme-related items. Bring money as you are going to spend.
Collection: Medieval art, in all shapes and forms. If you have a need to see polychromed statuary, painting, furniture, tapestries, illuminated manuscripts or metalwork, the Cloisters is the place for you. The museum houses a world-class collection that rivals anything one could see in Europe (save for the collections of one of the great national museums, but why quibble). One must check out the treasury which houses many of the metalwork objects. You can see a famous 5th century cup that was reputed to have been the Grail; a tabernacle of mother of pearl set on gold; lots and lots of really amazing things that you will want to decorate you home (but don't touch- the guards are a tad testy). The museum also has the famous Unicorn Tapestries in a room by themselves out in the open. They are spectacular. I believe they are seven of the finest tapestries ever produced: the story of the unicorn in full color (even after all these years they are bright). But don't lean in too close: they are protected by a laser system and if you break on of the beams, a lovely little beeping noise will occur and you will stand there sheepishly while the guard glares at you.
You must visit this place. It is imperative if you are Goth.
Commentary by Heather Babb, Monday, January 25, 1998.
WWW.NYCGOTH.COM Gallery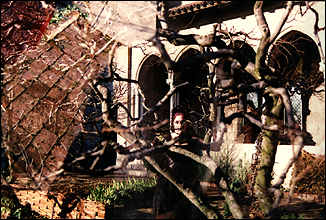 Photo: Risa / Model: Jill Barone