Brooklyn Museum of Art
200 Eastern Parkway
Brooklyn, NY, 11238-6052
(718) 638-5000
Email: brooklyn@wwar.com
Website: http://www.brooklynart.com
Hours: Wednesday - Friday 10 am - 5 pm /
Saturday 11 am - 9 pm / Sunday 11 am -6 pm
Fee: $4 adults, $2 students, $1.50 seniors, free children


---
Often overlooked and usually underrated, the Brooklyn Museum of Art rivals and even outshines the art museums of most major American cities. If not for the Metropolitan Museum, it would likely be New York's biggest and most comprehensive art institution. Dating from before the incorporation of the outer boros into the New York City megalopolis, the Brooklyn Museum is a remnant of Brooklyn's own civic heritage, from a time when Kings County was Manhattan's cultural rival.
Its collection spans the ages and geography, with outstanding Egyptian and ancient Mediterranean wings, and New York's most extensive early American art section. Other strengths include African and Polynesian Art, and European Symbolist/Surrealist drawing and painting.
Manhattan snobs may be under the impression that travelling to the Brooklyn Museum is difficult, it being in one of those "provincial outer boros". This is far from the case, as the museum is easily accessible by car or public transportation, and less than an hour away from Manhattan's most populous areas. Visit the Brooklyn Museum's excellent directions page at http://www.brooklynart.org/brooklyn_museum/directions.html.
Commentary by Charles Burns, Monday, January 25, 1998.
WWW.NYCGOTH.COM Gallery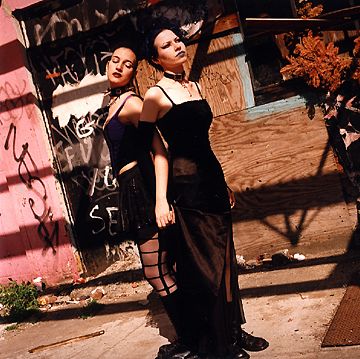 Photo: Rachel / Models: Carol, Varrick