---
Bloody Brains
---
The Bloody Brains is a fairly grotesque concoction made to resemble a liquifying clump of gray brain tissue floating in a glass of blood. It's definitely a murky congealing nectar, with the added treat of providing the texture (though not the taste or smell) of gulping sour milk.
This drink is also known as Brain Hemorrhage and several other variations on the theme.
1 Oz. Peach Schnapps
1 Tsp. Irish Creme
1/2 Tsp. Grenadine
Pour the Peach Schnapps and then slowly pour the Irish Creme without mixing. The Creme will clump together and settle at the bottom of the schnapps. Drip the Grenadine over the morass to complete the drink.
Commentary by Clifford Hartleigh Low, Saturday, October 24, 1998.
WWW.NYCGOTH.COM Gallery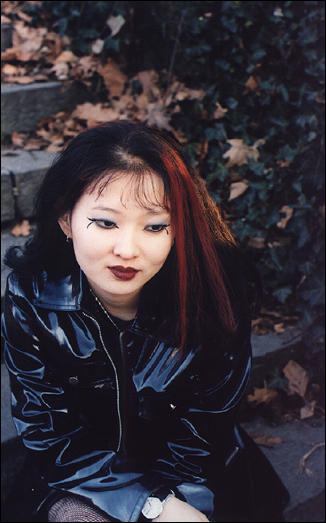 Photo: Bill / Model: Emily St. Germaine