CBGBs Gallery
313 Bowery
Greenwich Village, Manhattan


---
CBGBs Gallery is a narrow, smoky, dimly lit neighbor to the main CBGBs, connected by a shared basement. It has the pretensions of being a gallery, and several works of art can usually be found on the walls. Primarily a bar, it has a few booths and a ring of comfortable couches near the door to provide drinking space for the morbid conversationalist— though often the sound system is overly loud. The bar is small but the drinks are usually affordable and not watered down. Dancing is no longer permitted because of city ordinances.
It has a small stage with a smattering of cafe tables and chairs in front of it. A small and unsanitary bathroom can be found past the stage to the left, and on crowded nights one should be prepared to encounter a line. It is sometimes awkward to push through the audience or walk in front of seated carousers in order to make it to the toilet, because it is quite visible to everyone where you are going because of the layout.
The new basement area is a highlight of the space, with an area for a second bar on some nights, a good sound system, and other treats. On some nights a second DJ area is set up there.
Commentary by Daniel Feldspath, Saturday, April 22, 1998.
WWW.NYCGOTH.COM Gallery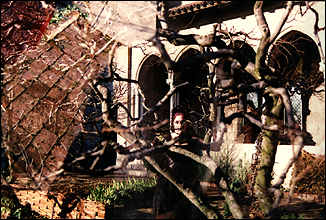 Photo: Risa / Model: Jill Barone